Daisy's first christmas was lovely! We spent it with all the family, lots of friends, lots of food and lots of gifts for one spoilt little miss. With moving into my new flat, christmas seemed to come round so quickly and seems as though it was over within a minute. It's such a lovely day that part of me wishes it was christmas every day! Although I'm sure it would get a little boring and not to mention expensive. On christmas Eve we put out cookies and milk for Santa along with a key so he could get into our apartment. Daisy got into her Christmas pyjamas and went to sleep whilst I finished all the wrapping and getting everything ready for the morning.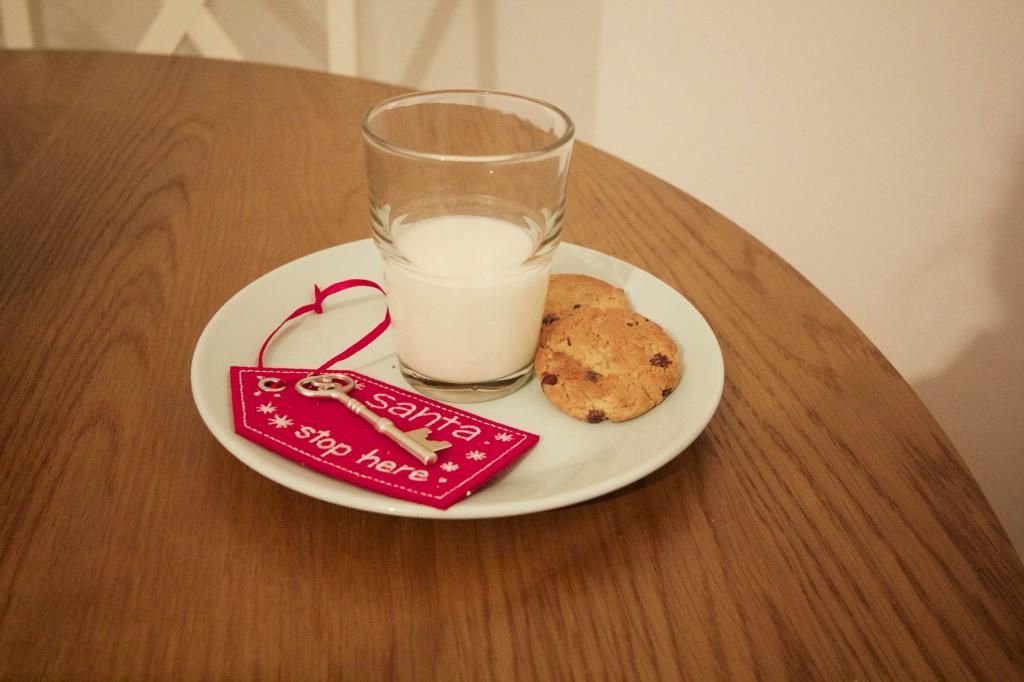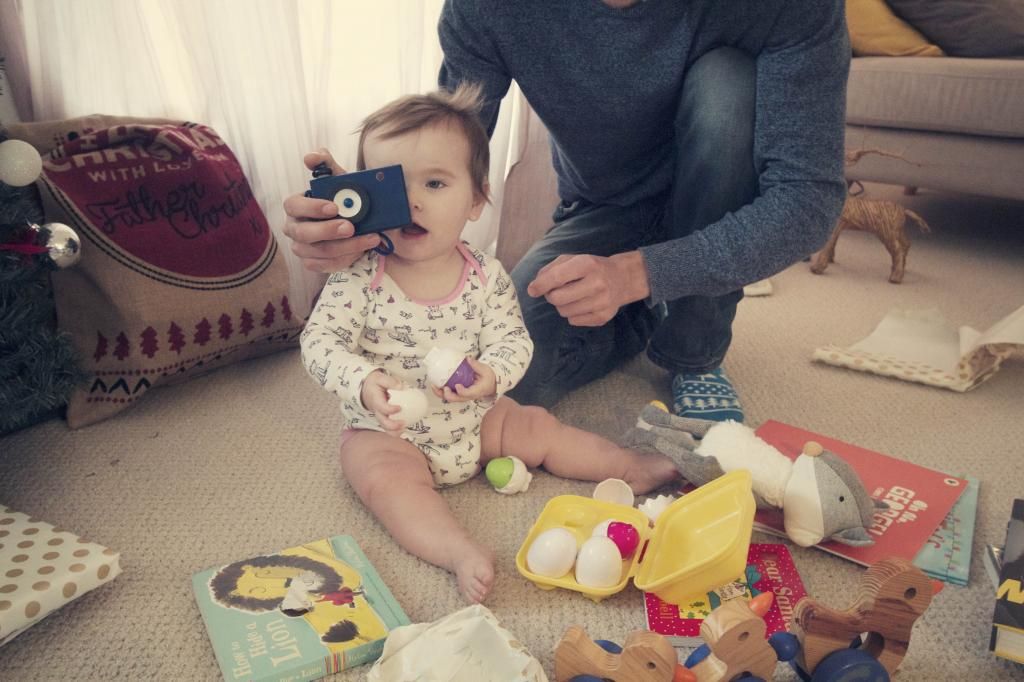 Daisy woke up at 2am with a burning temperature, she hadn't really been herself for a while. I bought her into bed with me and after giving her more calpol she fell back to sleep until half 8/9sih! I couldn't believe that the latest I have ever woke up on christmas was the one year I was with a baby! So she got up and had absolutely no idea what was going on, but we gave her some presents and she gradually managed to open them (very slowly and with a lot of help from me and Andrew!) She loved the wrapping paper as most babies do and loved her little pram walker. We put her bunny in the pram whilst she walked around the living room slowly and not so steadily haha! We then all got ready, Daisy had a little 30 minute cat nap and we headed on over to Andrew's mum's house to exchange more presents. She bought us some gorgeous lights for our flat and spoilt Daisy with a cute personalised cosy coupe car! (Which Daisy loved). Me and Andrew also bought Daisy a little trike and we kept that at Andrew's mum's so we gave that too her there too!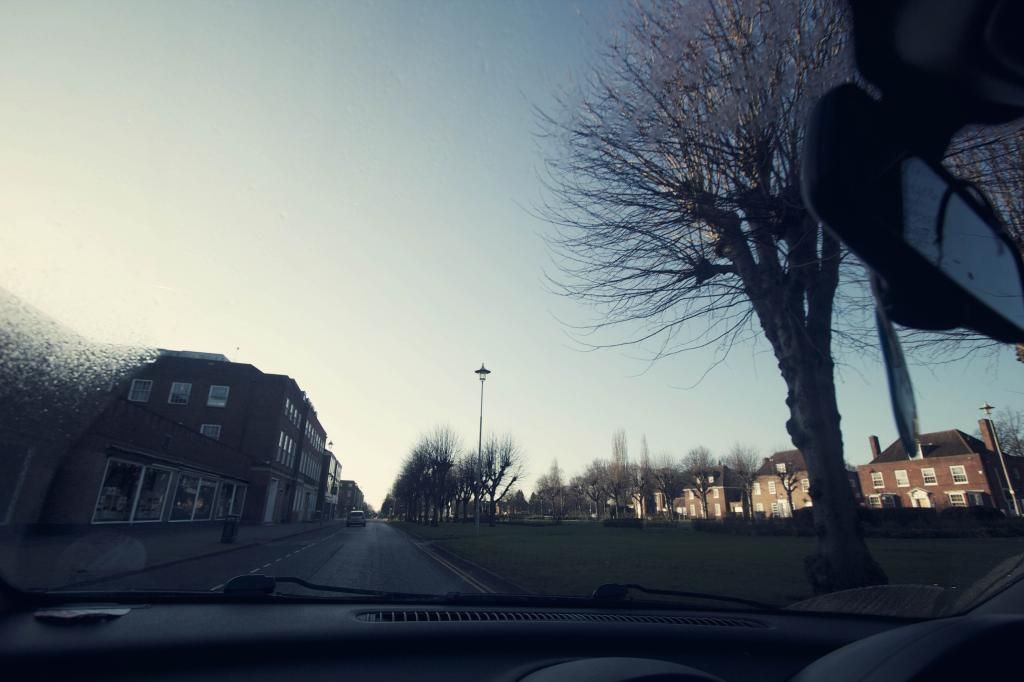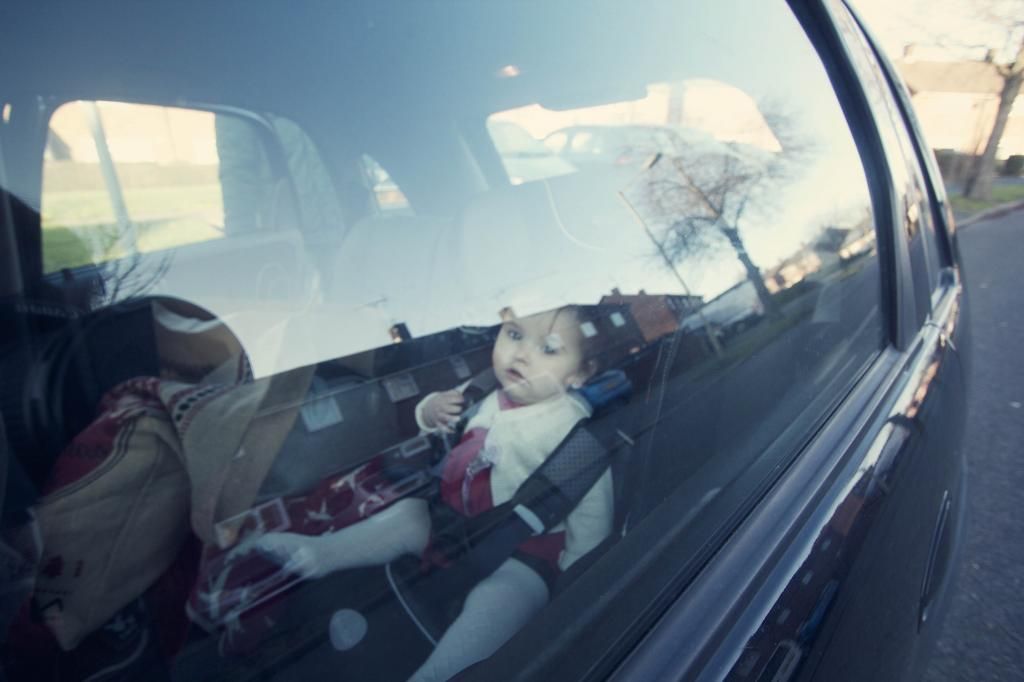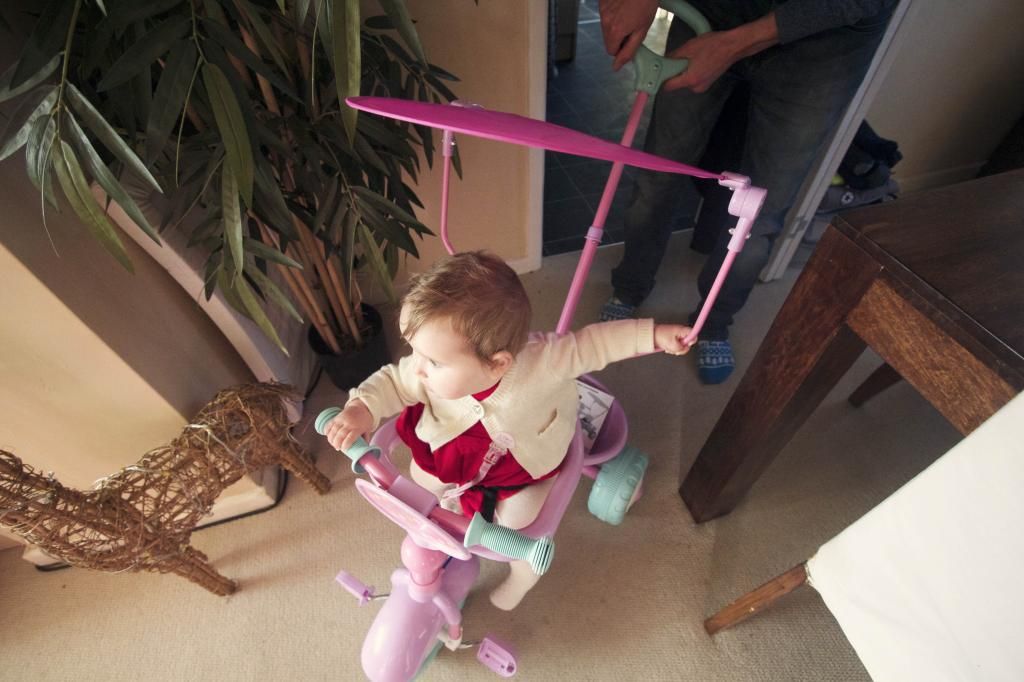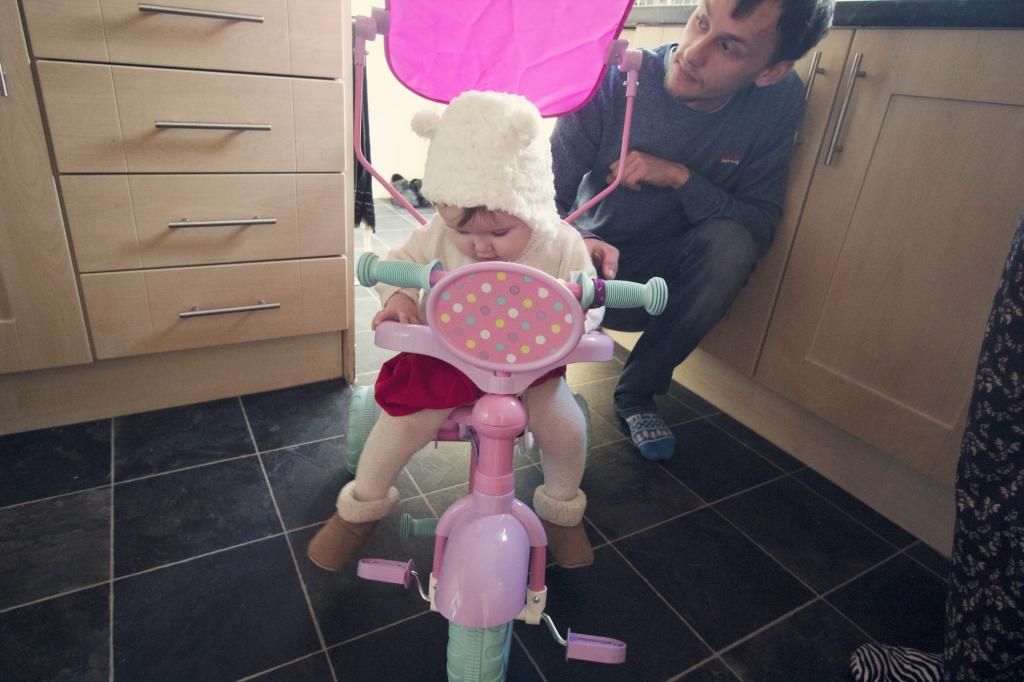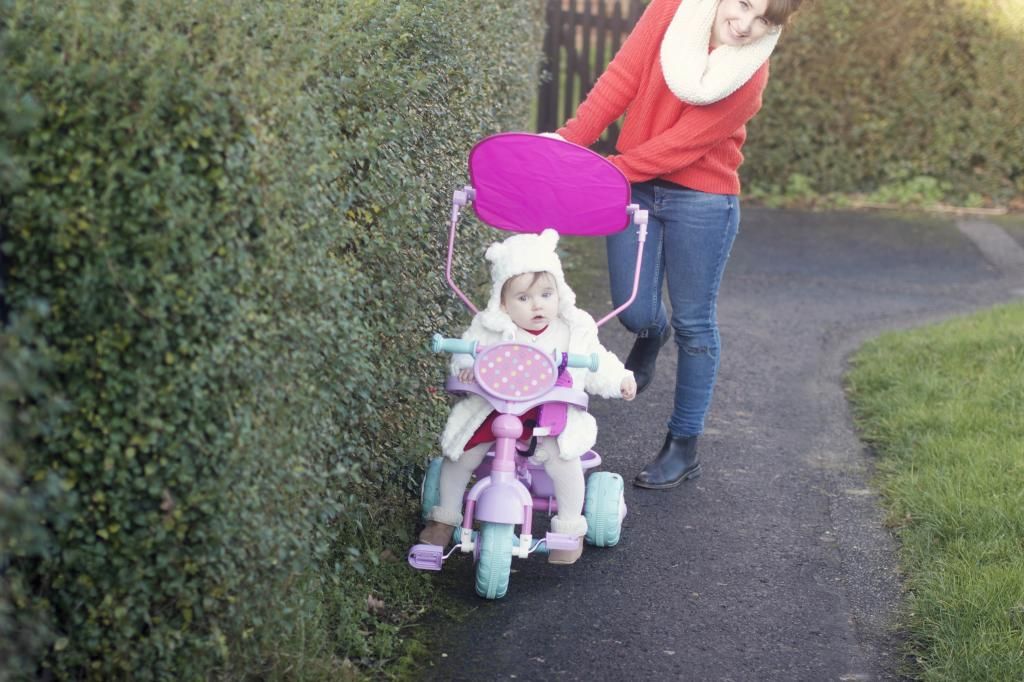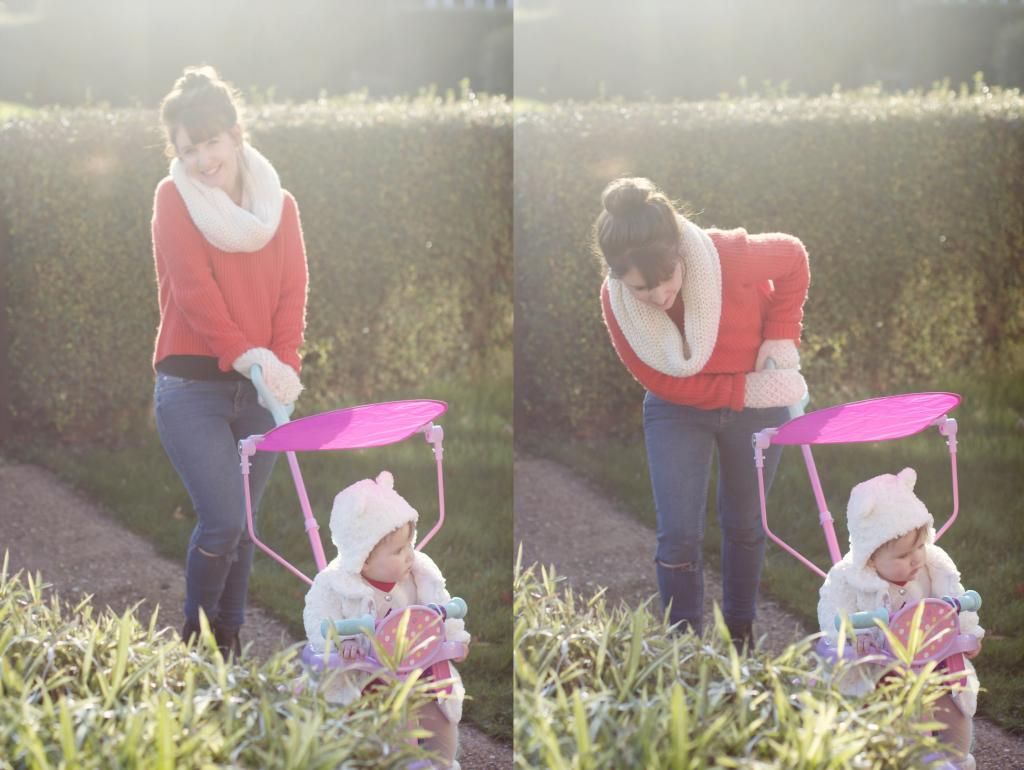 We then drove round the corner to Andrew's sister's where we had a little bit of breakfast, saw the rest of Andrew's family and exchanged even more presents! Daisy loved seeing Ryan and kept trying to help him open his presents (which didn't going down to well haha, cheeky girl!) We then went oven to my parents for the rest of the day and for dinner. She got even more spoilt rotten by my ever so large family!
All throughout christmas day Daisy didn't seem herself and was barely able to nap so I thought maybe it was because of that. I thought maybe she was confused as to why the day was so busy and with so many people and so that had made her a little out of character for the day. She kept burning up and everyone put it down to it being quite warm in the house but I was sure it was a temperature. We gave her calpol and she seemed a little better. When we got home it got to about 12 o'clock (midnight) and Daisy woke up absolutely boiling, she had already had calpol and after taking her temperature it was a whooping 39.1! So we called 111 and they recommended they booked us in for an emergency appointment at the hospital for 2.20am. After taking Daisy along and having a doctor check her out, he said she definitely has tonsillitis. He gave her some medicine and antibiotics and said we had to wait for her temperature to go down before we could go home – so that was a looooong night! 

We finally got home and went to sleep at about 4.30 / 5am. And boy have I never been so happy to get into bed and sleep! It was a big shame though as it ruined our plans for boxing day. I was meant to go along with Daisy to meet my baby twin cousin's for the first time, but Daisy wasn't able to come along, she stayed at home whilst I went. Then I came back and stayed at home with her whilst Andrew went over to his nan's. I started to feel a little rubbish and then overnight my mouth filled up with ulcers – something that always happens when I'm coming down with something. My throat killed, my head killed and my body ached (still does) so I spend the past few days being looked after by Andrew and my family!  
Minus all of that though, christmas was lovely!
Hope you all had a lovely Christmas!